Sanctuary / Church
Chapel of San Sebastiano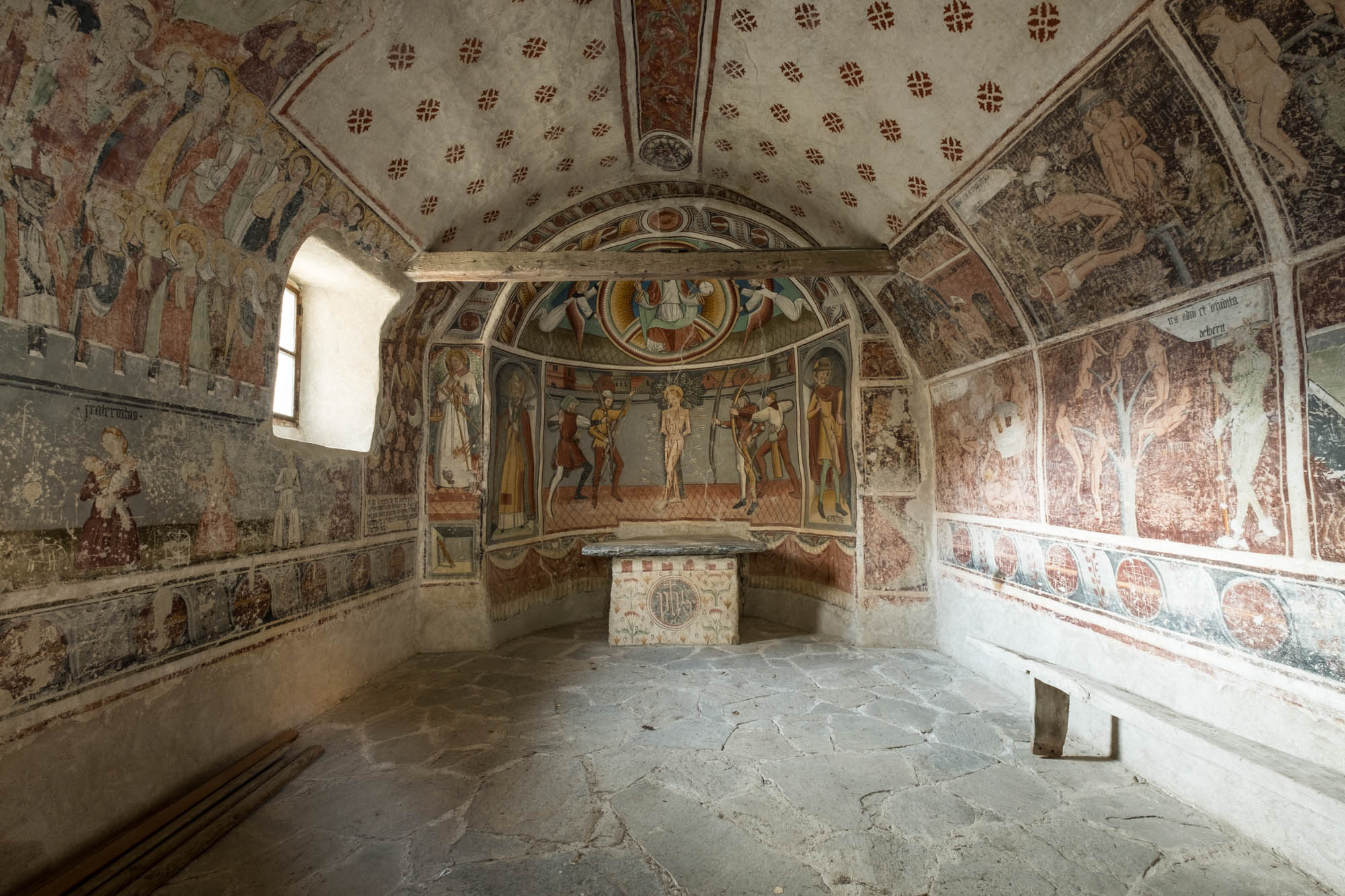 The votive chapel of San Sebastiano was built during one of the plagues in the area in the 15th century.
Its beautiful stone forms with Romanesque bell tower capture you as you drive along the road from the hamlet of Paschero to Serre and Ruà.
The building has a portico under which the mule track leading to the hamlet of Chiotto used to pass. It was formerly an open church façade, and it was only in the 19th century that the entrance was closed with the insertion of the door and the creation of a very valuable fresco.
The apse, frescoed by Giovanni Baleison in 1484, depicts the martyrdom of St Sebastian. The greenery to which the saint is attached, the clothing of the archers, the background in which the roofs of the houses can be glimpsed, are reminiscent of the 13th century Florentine style. On the sides are represented Pope Saint Fabian and Saint Roch, invoked to protect against the plague. The side piers depict the Archangel Michael on the left and the devil on the right, carrying off the damned in a basket. Below the archangel is a compass symbolising balance, below the devil are the gaping jaws of a dragon indicating hell. The scene is dominated by the Eternal enclosed in an almond.
The altar is one of the oldest in the province and dates back to the 15th century. On the left wall one can see Hell divided into eight rounds of sinners. On the right wall is Purgatory, in which the souls of the dead are comforted by angels. Below Purgatory, the inscription attributing the authorship of the frescoes inside the church, directly quoting IOHANES DE BALEISO. Completing the fresco cycles are the Celestial City surrounded by high crenellated walls and Limbo, where the souls of the dead who will never know the joy of Paradise can be glimpsed behind the grille. In the lower part of the right wall, a semi-cancelled procession of the theological virtues is visible.
A jewel of art surrounded by nature, taking you to discover a great painter and an unspoilt corner of the Valley.
How to visit the site

Get the keys from Locanda Maraman Oste de Seles 349 5326880 / 329 3219082 (Closed Mondays)
They might interest you
Other attractions similar to this one.