Sanctuary / Church
Parish church of Santa Maria Assunta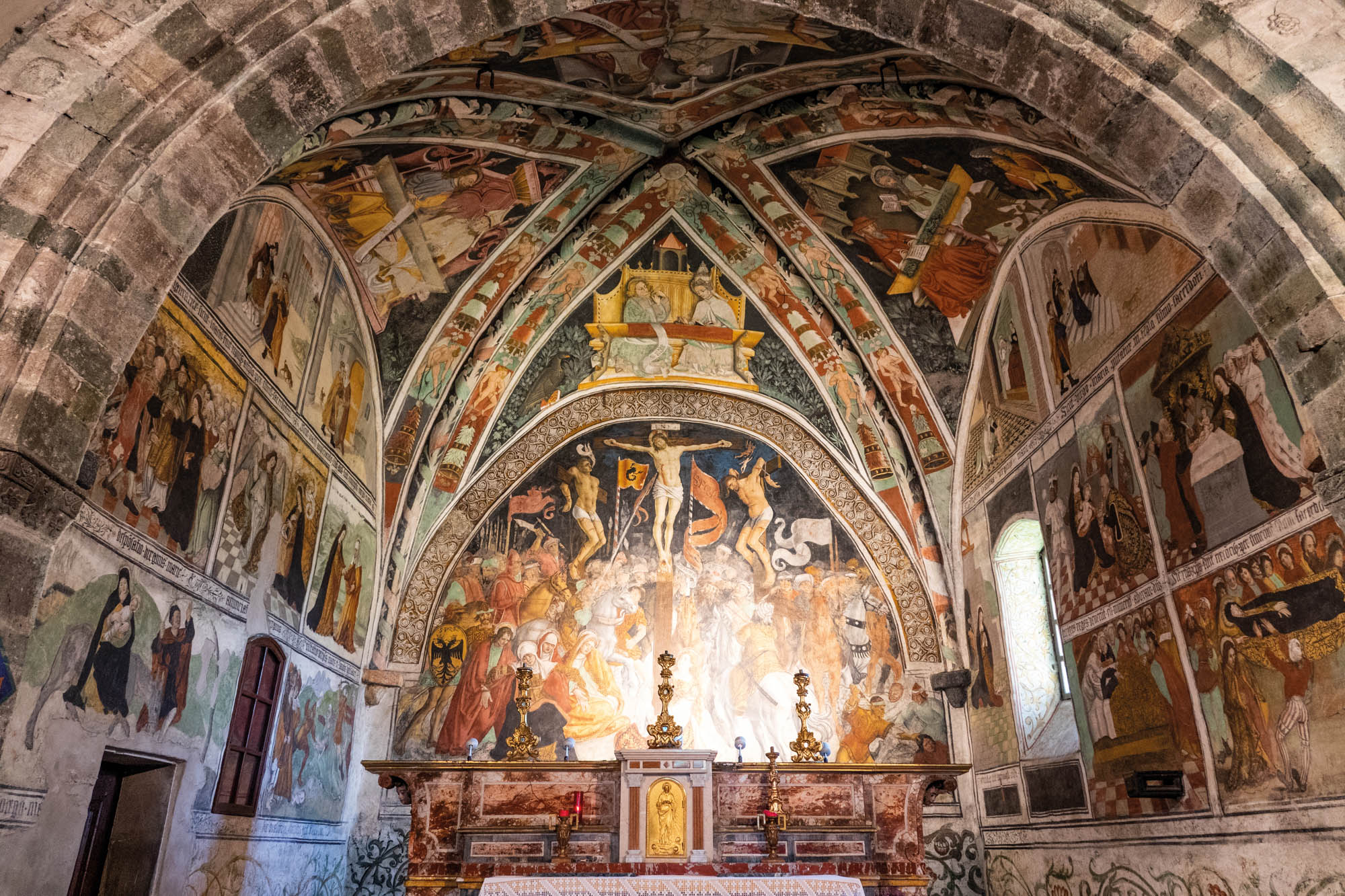 There are many reasons to visit the Parish Church of Santa Maria Assunta in Elva. Admire a Romanesque-style church. Visit a country that has maintained its spirit over the centuries. Admire the natural setting that welcomes it. Whatever the reason that brings you here, you will discover one of the most beautiful paintings in the area: the splendid crucifixion and the paintings in the chancel attributed to Hans Clemer. This Flemish painter worked in the Marquisate of Saluzzo and in Provence between the end of the 15th century and the beginning of the 16th century.
A magnificent work that earned Hans Clemer the nickname Master of Elva.
It is a fresco cycle, datable to around 1493, illustrating stories from the life of the Virgin and Christ. The culmination of the cycle is a grandiose Crucifixion scene that occupies the entire back wall.
The sails of the vault depict the four Evangelists in discussion with the first four Doctors of the Church.
The Crucifixion is characterised by strong drama and the powerful physicality of its characters. Among the anonymous faces in the crowd, the face of Longinus stands out in the centre, which tradition says is a self-portrait of the painter Hans Clemer. The side scenes illustrate the life of the Virgin Mary.
Restored in 1095, it is certainly one of the Maestro's best works and one of the most significant testimonies of Piedmontese art of the period.
Also noteworthy are the late Romanesque entrance portal, a Madonna and Child in the lunette above the portal and the Romanesque bell tower.
Inside, in addition to the frescoes, you will find the baptismal font, carved in stone, dating back to the late 14th and early 15th centuries, and a stoup by the Zabreri brothers dated 1463.
Have we convinced you? We look forward to seeing you at the parish church together with the Master of Elvia!
How to visit the site

Open all year round. Can also be visited with the help of the 'Elva' APP For info: (+39) 340 9846508 SPRING/SUMMER 2023 OPENINGS: GUIDED TOURS by Monica Giraudo Saturday 8 April Saturday 6 May Saturday 3 June Saturday 1 July Saturday 5 August Saturday 2 September Saturday 7 October (from h. 15:00 to h. 18:00)
They might interest you
Other attractions similar to this one.