Ski mountaineering
Cugn di Goria from Serre di Elva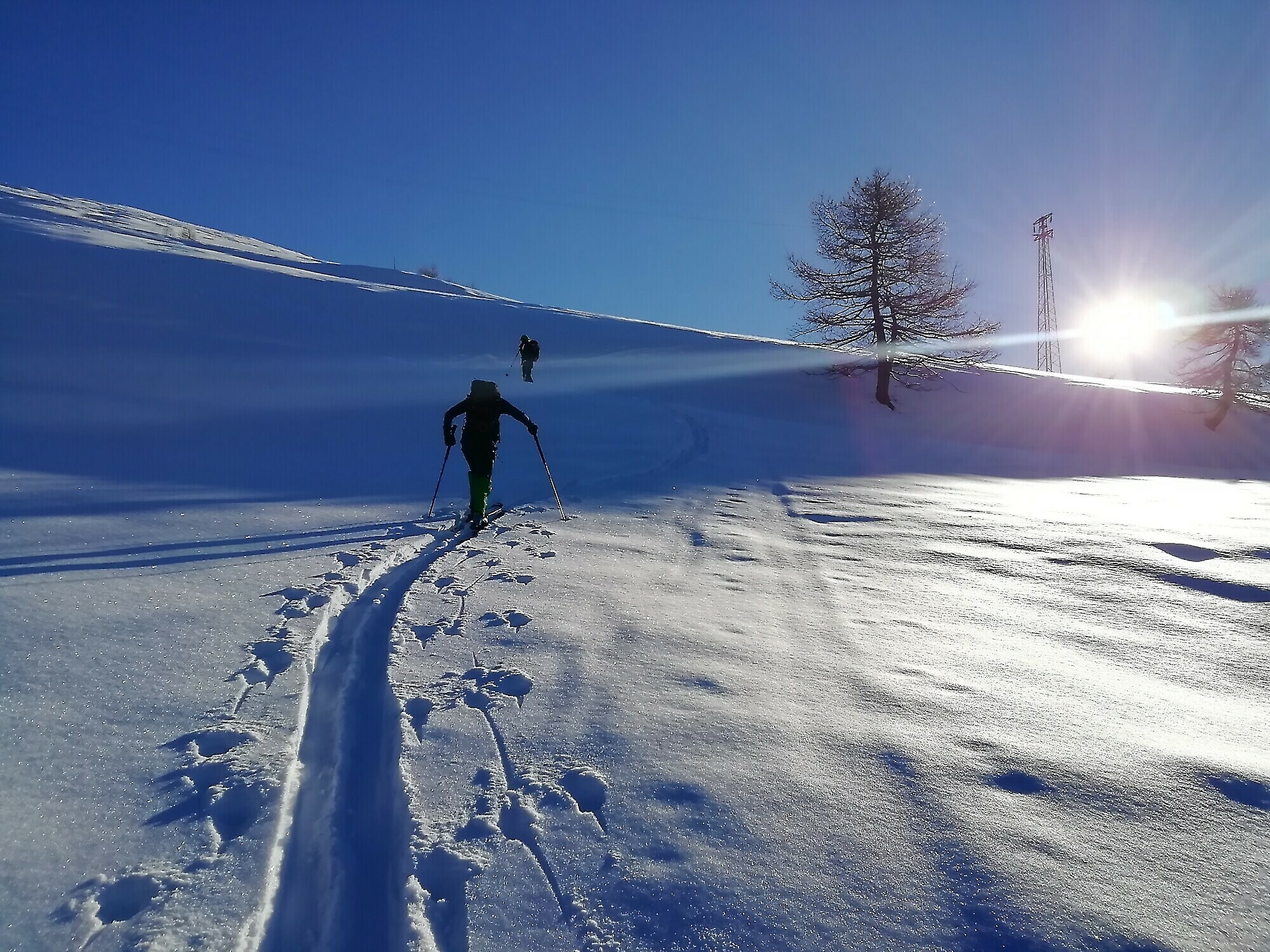 A classic ski mountaineering trip, which develops on relaxing and sunny slopes. Suitable to inaugurate, as well as to conclude the season. Recommended for those approaching skin skiing, but also for more expert skiers who want an accessible itinerary, immersed in a breathtaking landscape.
We are in the Elva basin, one of the most secluded and intact places in the entire Alpine arc.
You start from the road that leads to Serre, go up the slopes in the direction of the hamlet of Goria, continue through the larch woods, until you reach the top of Cugn di Goria (2385m).
The view extends over the three thousand meters of the valley, from Chersogno to Pelvo d'Elva, until you come across Monviso.
From the top you can continue in a northwesterly direction, up to the Sanpeyre pass and again up to the top of the Serre (2385m).
From here begins the descent that will take you back to the Serre hamlet.
From Dronero, take the provincial road to the crossroads for Elva near Stroppo. Continue for 17.5 km to the hamlet of Serre. The road is quite long, but absolutely worth it.
For information on the state of the snowpack and the avalanche risk, consult the AINEVA bulletin: https://bollettini.aineva.it/bulletin/latest.
Possibility to rent avalanche transceiver kit at:
Dronero Tourist Office – Piazza XX Settembre 3, Dronero
9:00 – 17:00 from Monday to Saturday
Bistrot Brignone – Str. Valli Occitane 127, Roccabruna
7:00 – 18:00 every day, closed on Saturday afternoons
Book it here: https://www.vallemaira.org/noleggio-artva/
Information
Ascent: 810 m
Distance: 7.3 km
Region: Elva
Season: Winter
Difficulty: Easy
Mountain sports are potentially dangerous activities and must be undertaken with the right equipment and preparation. We invite you to consult the weather and avalanche bulletin before embarking on an excursion and/or contact a guide for assistance. The Valle Maira Tourist Consortium declines any responsibility in relation to the advice and itineraries shown here, which must be evaluated personally according to the weather conditions and snow cover.